1904
Bichier Jean Hélion was born 21 April in Couterne, Orne (Normandy). His mother was a seamstress and his father was a taxi driver. In 1926 he took his father's original name: Hélion. The latter had taken the name Bichier for unknown reason.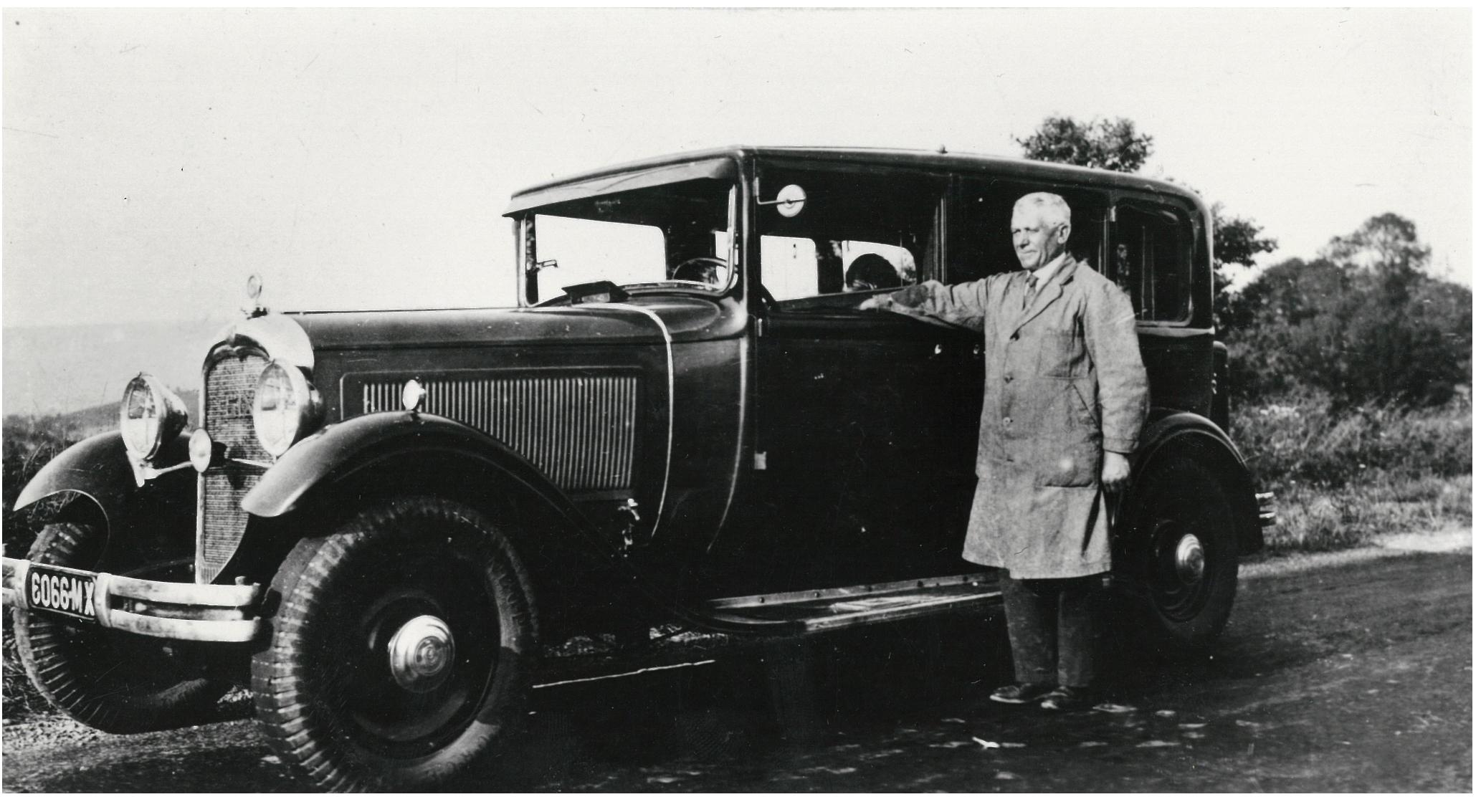 1912
His mother brought him up until 1912, the year in which he lost his older sister and joined his parents in Amiens
1920
He begins stuying chemistry at the Institut Industriel du Nord in Lille, but he didn't persue.
1921
Under the influence of a friend he goes to Paris where he finds a job as a apprentice draughtsman with an architect. His employer had sent him to the Louvres to carry out surveys. There he discovered Philippe de Champaigne and Poussin. This encounter was decisive with regard to his vocation as a painter.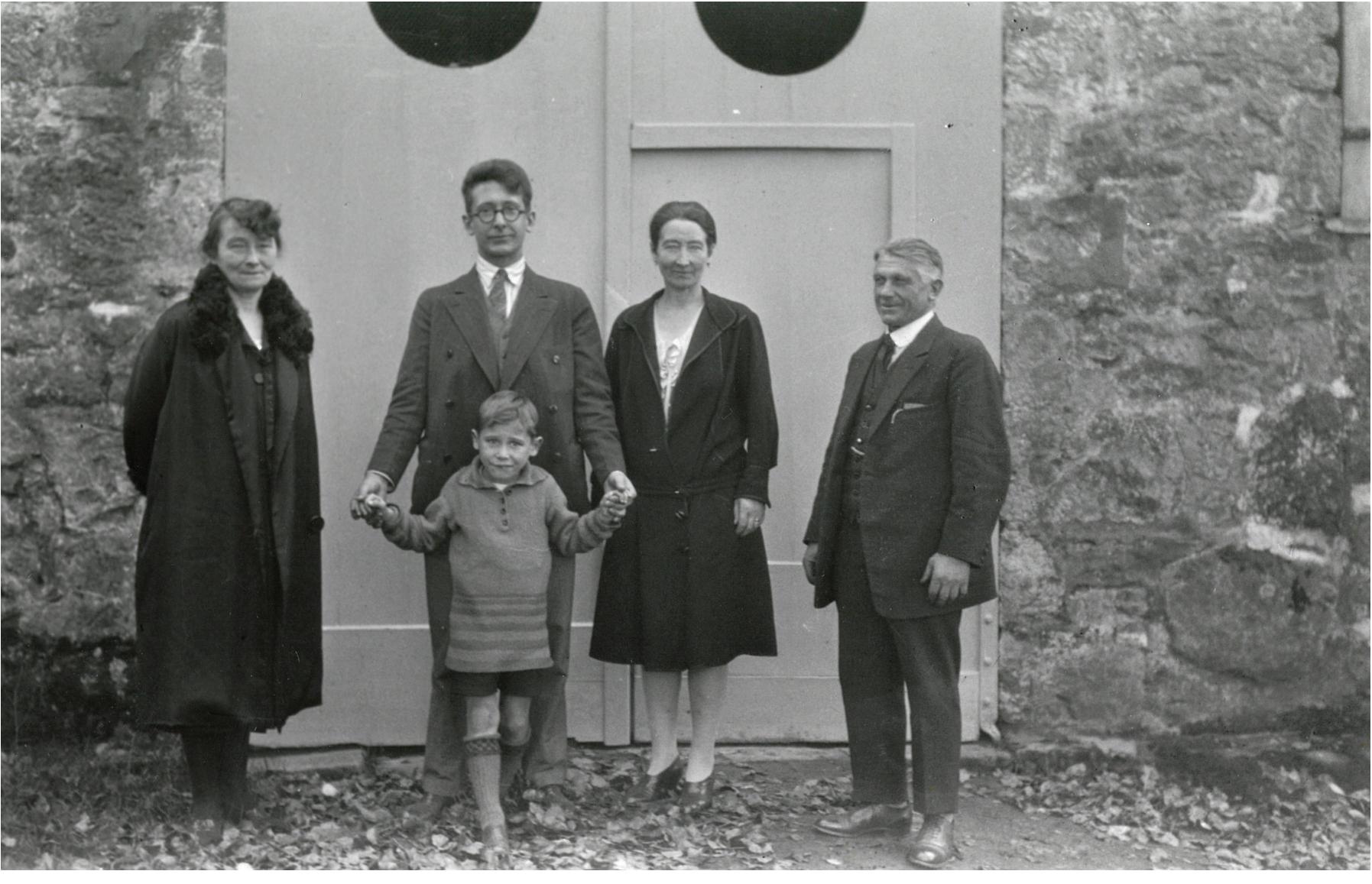 1922
First paintings: portraits, landscapes. His wife Andrée Jouart gives birth to Jean-Jacques
1924
He meets the Belgian painter Luc Lafnet with whom he exhibits at the Foire aux Croûtes (Street exhibition) in Montmartre. He discovers Cézanne, Derain, Matisse and Vlaminck in various galleries.
1925
He meets Georges Bine at the Foires aux Croûtes, his first dealer with whom he signs a contract. Georges Bine persuades him to change his name in favour of his father's original name. He abandons architecture in order to devote the time of his life to painting. He studies from nude models at the Adler's School.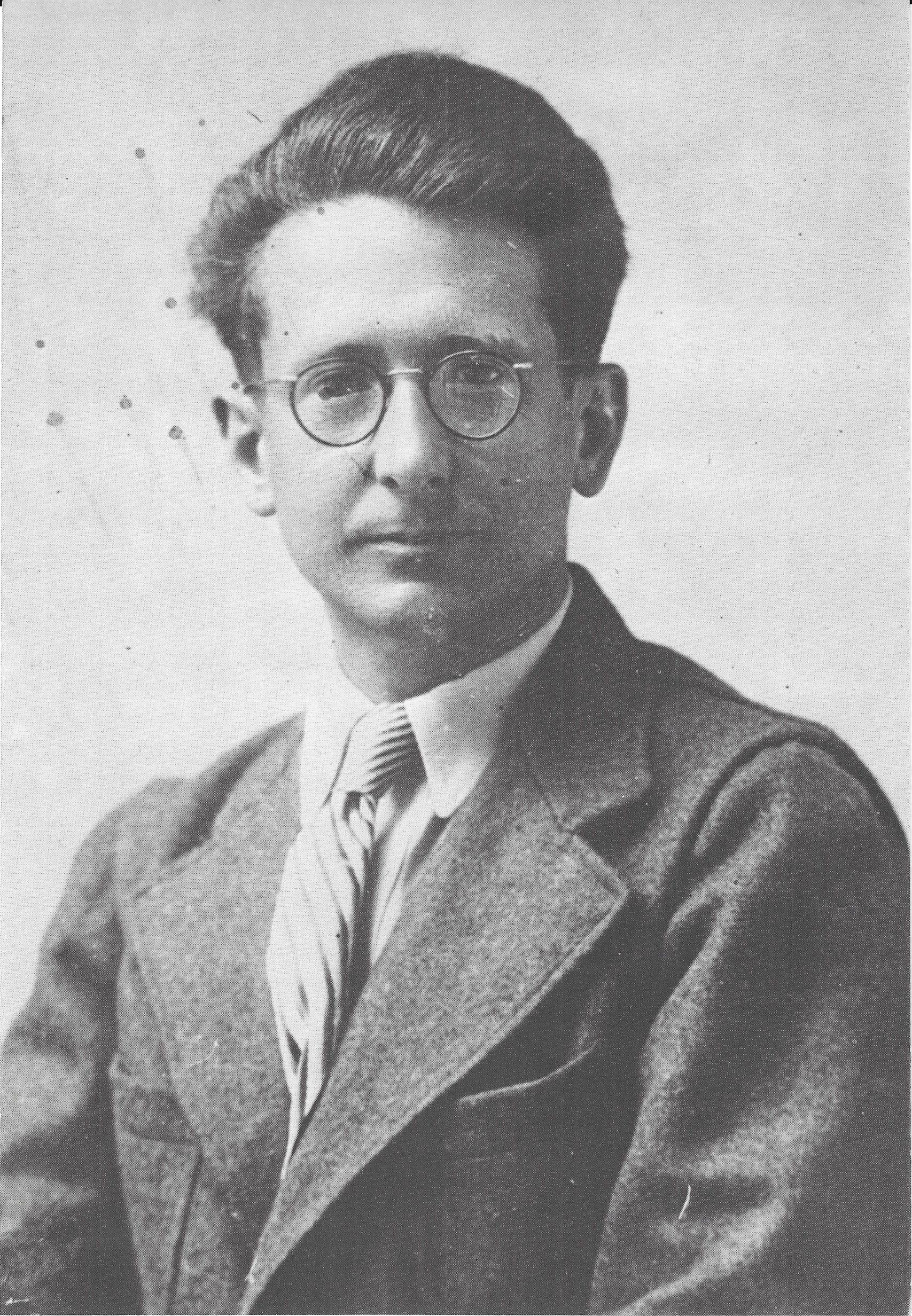 1926
He moves to rue Marcel Sembat where he takes in the Uruguyan painter Torres-Garcia for two months. The latter introduces him to modern painting and cubism.
1927
He with Luc Lafnet, Jamblan and Réande found the the magazine L 'Acte, which will appear in only four issues. Torres-Garcia also joins them.
1928
Hélion shows two paintings at the Salon des Indépendants. Louis-Léon Martin gives him a good write-up in the Crapouillot. Turned down by the Salon d'Automne together with Engel Pak, Aberdam, Pierre Daura and Torres-Garcia, they set up an exhibition under the title « Les cinq refusés », noted by André Salmon in La Revue de France.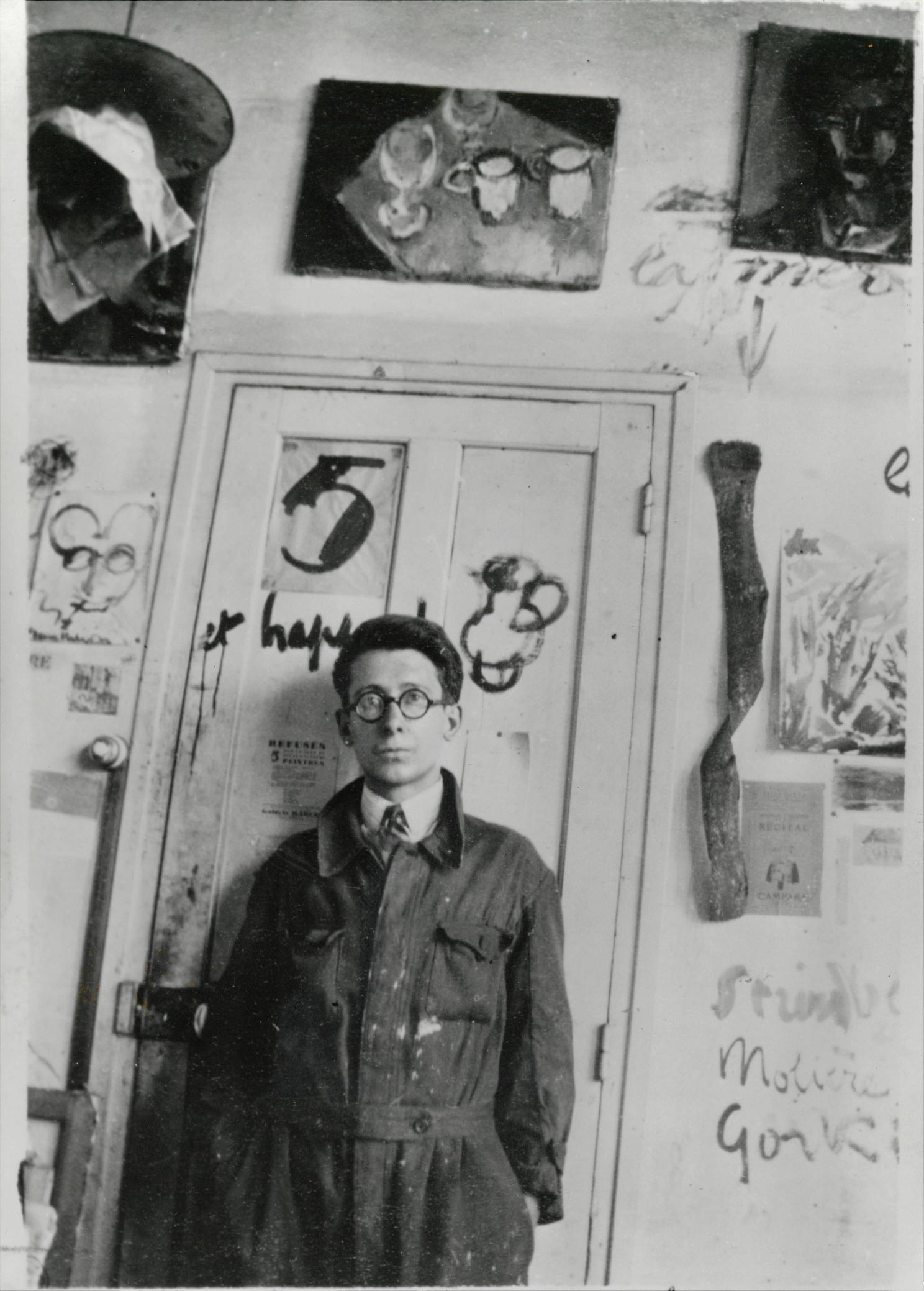 1929
Hélion moves to Montparnasse. Thanks to Torres-Garcia he discovers Piet Mondrian. He paints his first abstract works during a visit in the Pyrenees with Georges Bine.He exhibits his two first abstract works at the Dalmau Gallery in Barcelona. In the fall meets van Doesburg, Otto Carlsund and Tutundjian. Together they found the group and the magazine Art Concret. A single issue of which comes out.
1930
In April in Stockholm Otto Carlsund organises the exhibition Kubism, Purism, Konstructivism. Hélion writes the preface.
1931
Under the influence of van Doesburg Art Concret becomes Abstraction-Création with Arp, Herbin, Delaunay, Gleizes, Valmier et Tutundjian. Vantongerloo will join them after the death of van Doesburg. With the painter William Einstein he undertakes a journey to the USSR where he will only meet Tatline. He will come back deeply disappointed as he realizes that art is subornated to Soviet propaganda. His mother dies in November.
1932
June-July first one- man show at the Pierre Gallery: Compositions orthogonales, Tensions circulaires and Premières courbes. Here he meets Arshile Gorki, the art critic J-J Sweaney and Christian Zervos, founder of Les Cahiers d'Art. After the divorce from his first wife, he marries Jean Blair in the United States. Back in Paris, they settle Impasse Nansouty.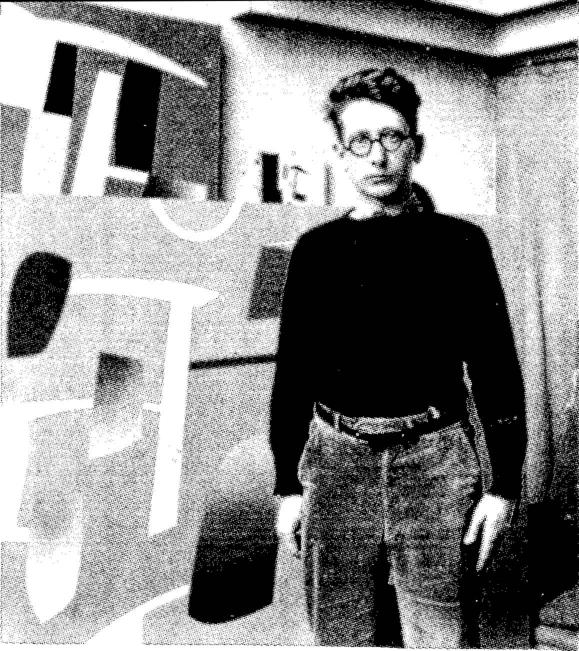 1933
Group show at the Galerie Pierre. Return to the United States with Calder. Takes up work in Virginia until February 1934. Group shows in New York and Chicago. Give a lecture at New York University.
1934
The John Becker Gallery offers him his first one-man show in the United States. Helion returns to France and resign from Abstraction-Création group because of the rigid rules imposed by Herbin. In June he meets Queneau, Lipchitz and Pierre G. Bruguière. Group show in July at the Cahiers d'Art Gallery with Sophie Tauber-Arp, Arp and Ghika. Meets A.E Gallatin, founder of the Gallery ofLiving Art, as well as Ben Nicholson, Herbert Read and Henry Moore.
1935
An important group exhibition organised by Hans Erni in Lucerne, Switzerland (end of February to March), entitiled Thèse, Antithèse, Synthèse. Hélion is represented by six works. He publishes articles in the magazine Axis in London (6 issues). Meets Kandinsky, Hartung, Henry Miller. Begins his large compositions in his studio Boulevard Saint-Jacques: Ile de France, Espace Bleu…
1936
Group shows in Paris, London and Oxford. A new show at the Cahiers d'Art is widely acclaimed. Meets André Breton. Returns to the United States where he builds himself a studio in Virginia at Rockbridge Bath. Show at the ValentineGallery (April), then at Hollywood at the Putzel Gallery (October). Submits an article in the last issue of the magazine Axis: Poussin, Seurat and double rythm ; then in Burlington Magazine : Seurat as a predecessor.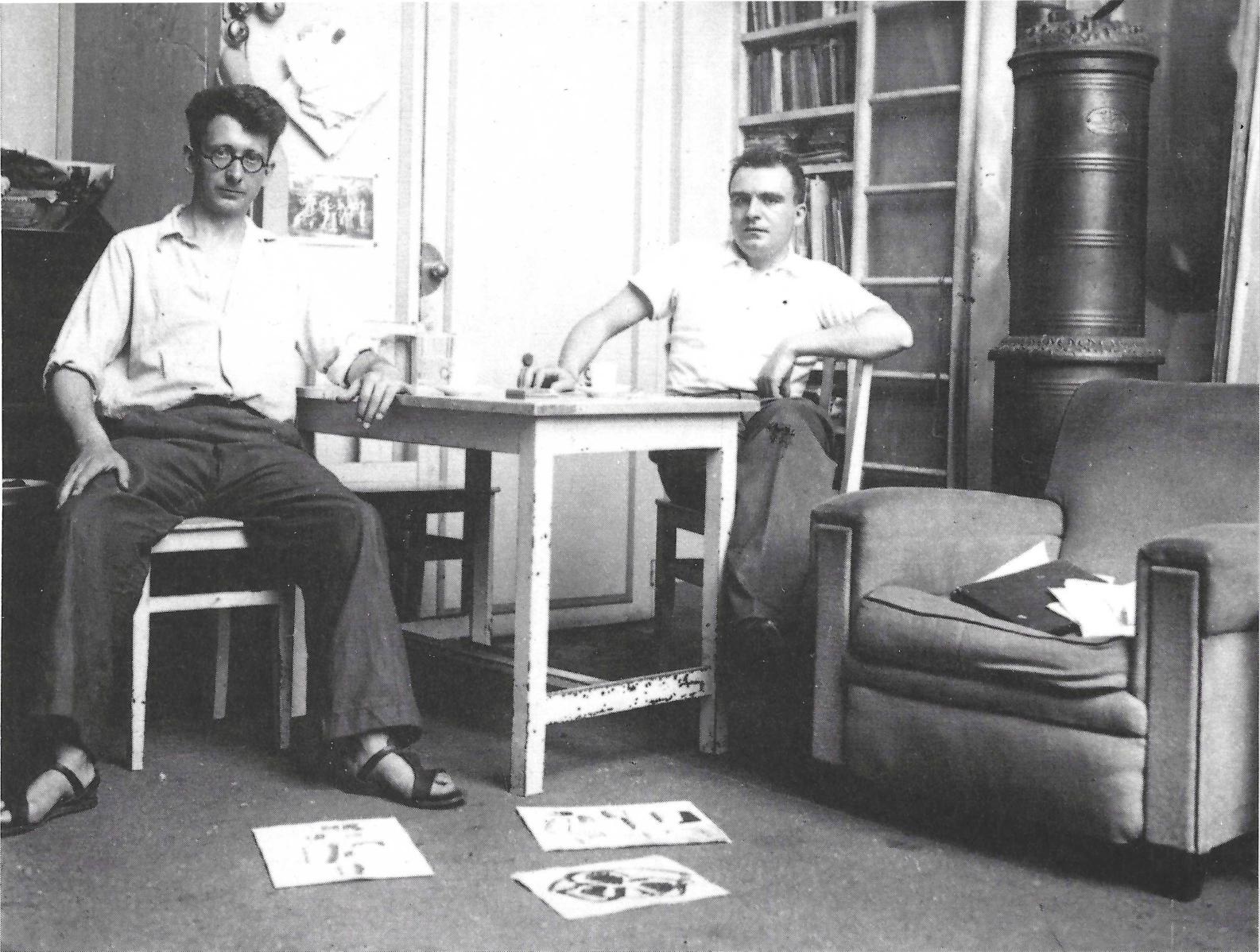 1937
In New York Hélion meets Meyer Shapiro. Realistic forms appear in his Figures. Shows at the Valentine Gallery and in the Chicago Art Club. His father dies in December.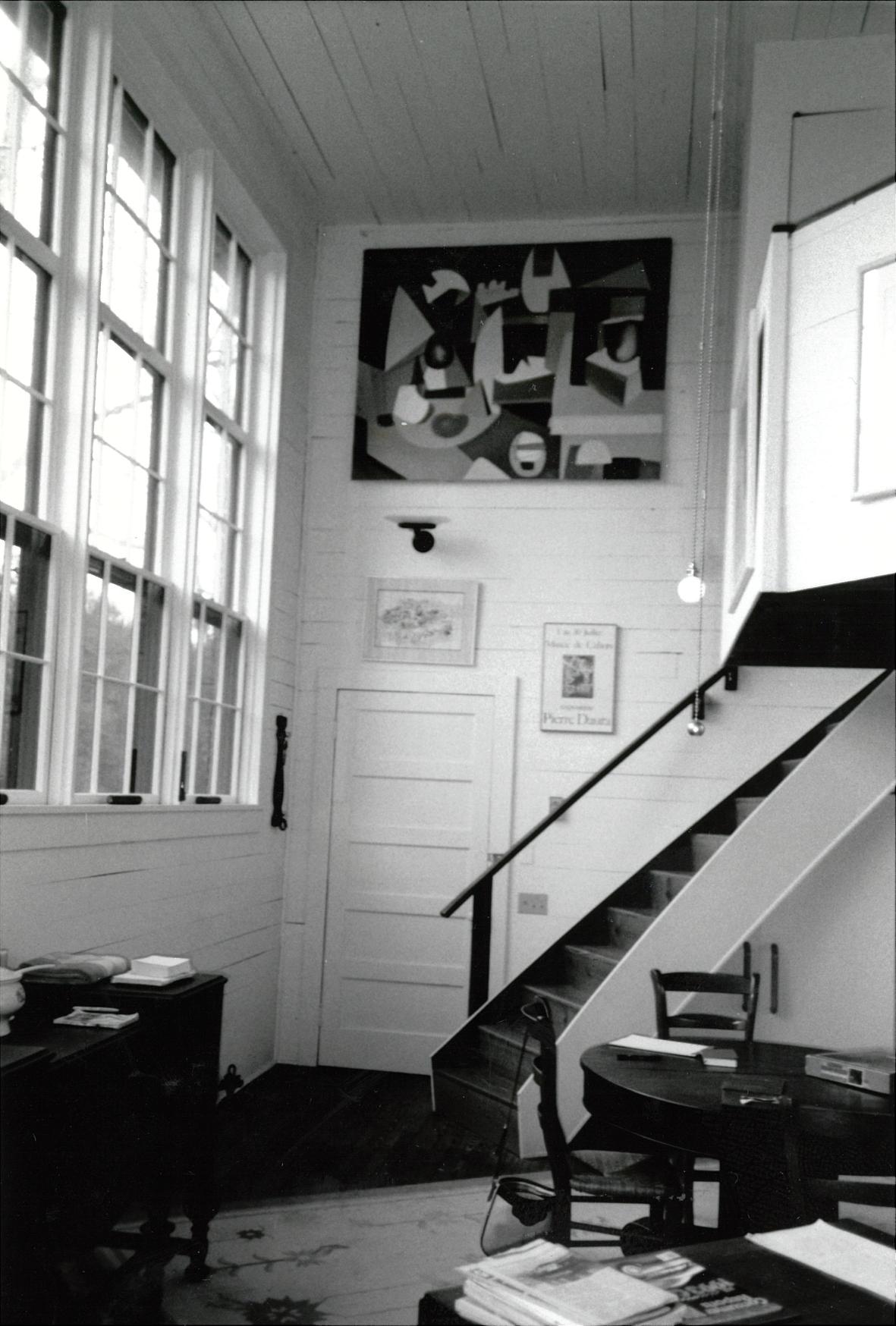 1938
Exhibits at the Chicago Art Club (February); Returns to France. Meets Yves Tangy. Finds a new studio in the rue Broca. Exhibits at the Galerie Pierre and returns to Virginia in July. Introduces figurative shapes in his paintings (Figures jumelles, Three Figures). Exhibits at Grand Rapids Museum, Minnesota.
1939
February birth of his son Louis. Paints his last abstract works: Figure Dramatique (Seattle Museum), Les Trois Lumières (Denver Art Museum), La Figure Tombée. Early studies for Emile, Edouard, Charles: full face, profil and back. Exhibits at the Art Club Gallery of Lynchburg, at the Whyte Gallery in Washington (November). First figurative painting: Au Cycliste.
1940
Drafted returns to France in early January. Prisoner of war in June. He is first sent to a camp in Pomerania then on board of a cargo in the port of Stettin. He escapes in February 1942 making his way to Paris then to Marseilles in October where he boards via Spain and Portugal and finally landing in New York. Gives a serie of lectures in support of the war effort and Free France. Meanwhile in March the Georgette Passedoit Gallery gives a show of his 1935-39 works.
1942
Exhibition in Richmond, Virginia Museum of Fine Arts.
1943
Hélion writes the story of his time as a prisonner and his escape in They shall not have me (E.P Dutton ed, 1943). It became a bookstore success and was republished several times. Exhibition of abstract works at the Chicago Art Club as well as in San Francisco, Los Angeles and in Peggy Guggenheim's Gallery in New York. Takes up his 1939 works and paints Défense d'… and L'homme au parapluie.
1944
He moves to New York where he meets Pegeen Vail, daughter of Pegguy Guggenheim. Exhibits his recent works at Paul Rosenberg's. Public reactions were very hostile. Death of his wife Jean Blair in October. Series of Allumeurs, Fille aux cheveux jaunes, Fille au mannequin.
1945
In January exhibition at the Crosby Gallery in Washington then at Paul Rosenberg's in March (recent paintings). Thomas Bouchard undertakes to film Hélion at work : Hélion, un artiste au travail. Takes part at the Whitney Museum of New York in the exhibition European artists in America. Exhibits again at Paul Rosenberg's in November (gouaches and watercolours). The critics are again very hostile. He marries Pegeen Vail.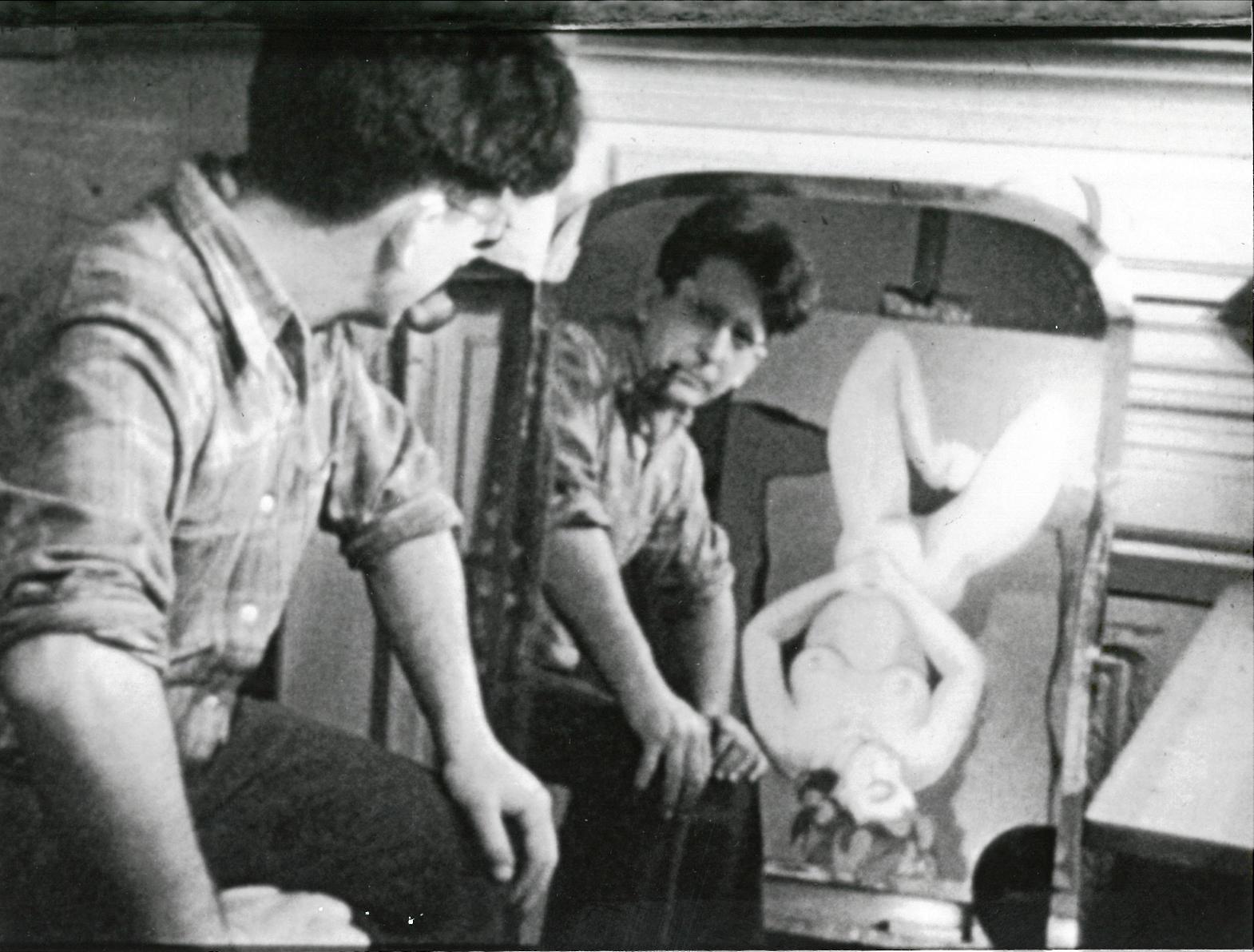 1946
Hélion returns to France in April and settles in Paris rue Michelet. Paints a serie of nudes : Nu accoudé, Nu au parapluie, Femme au parapluie, Fille échevelée.
1947
Birth of his third son Fabrice. Paints A rebours, a major painting recalling two recurrent motifs of the Scènes journalières and Nu renversé. Exhibits his latest works at the Renou et Colle Gallery in May: a total failure. Critics pull him to pieces. Paul Rosenberg cancels his contract.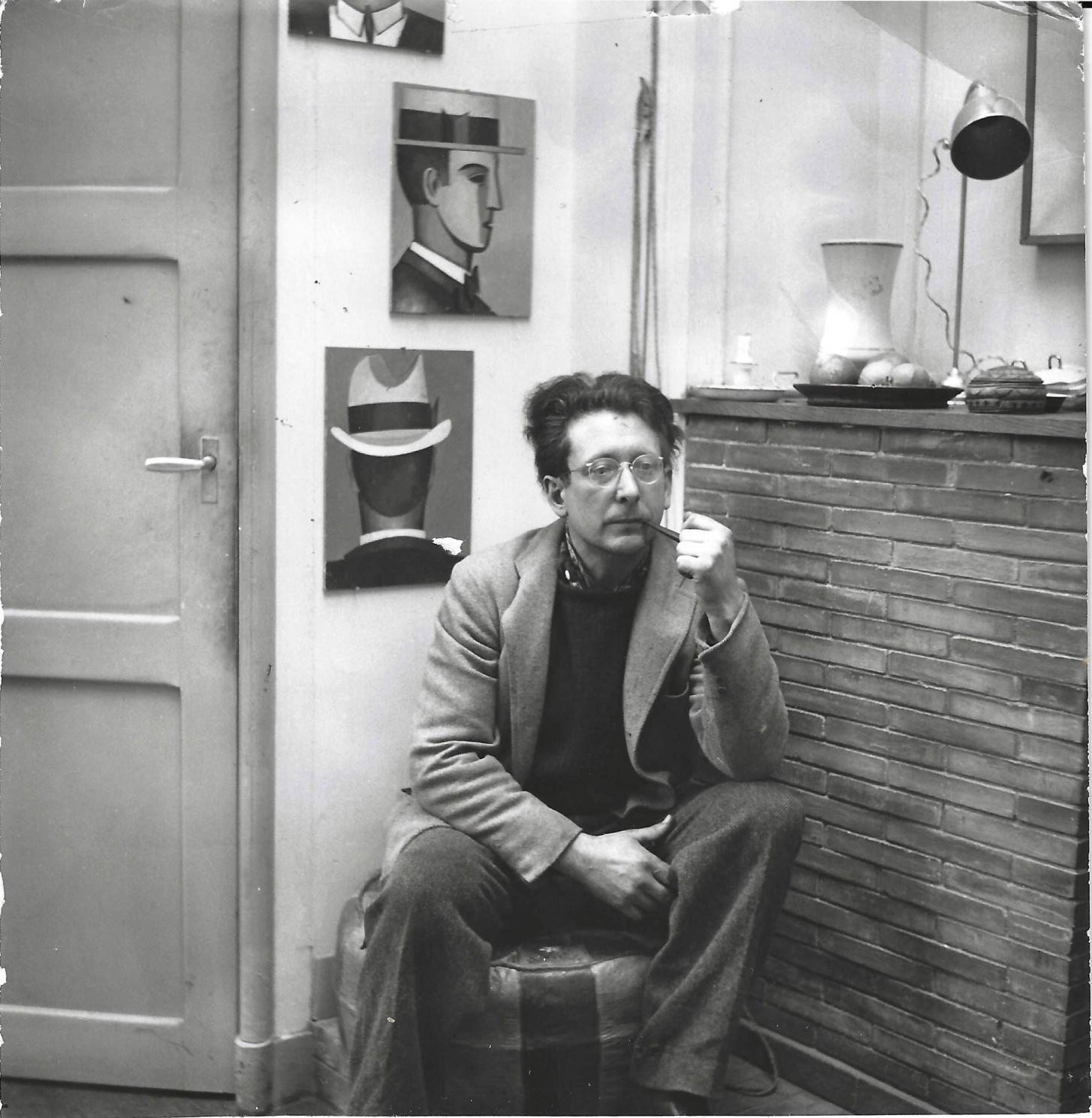 1948
Hélion travels to Italy. Paints Nature morte à l'œillet, Nature morte au parapluie, Hommes assis, Citrouillerie étrusque. Makes friends with André Jouffroy, FrancisPonge, André du Bouchet. Occupies a studio in the Avenue de l'Observatoire.
1949
Birth of his fourth son David. Merce Cunningham and John Cage give their first performance in his studio. Paints les Nus couchés, les Nus assis, les Nus étoilés, les Nus renversés, les Nus au gisant.
1950
A year devoted to Journaliers, Grande journalerie, Lecteurs et le gisant, Nu étoilé au gisant et au journalier…and work on the Mannequineries.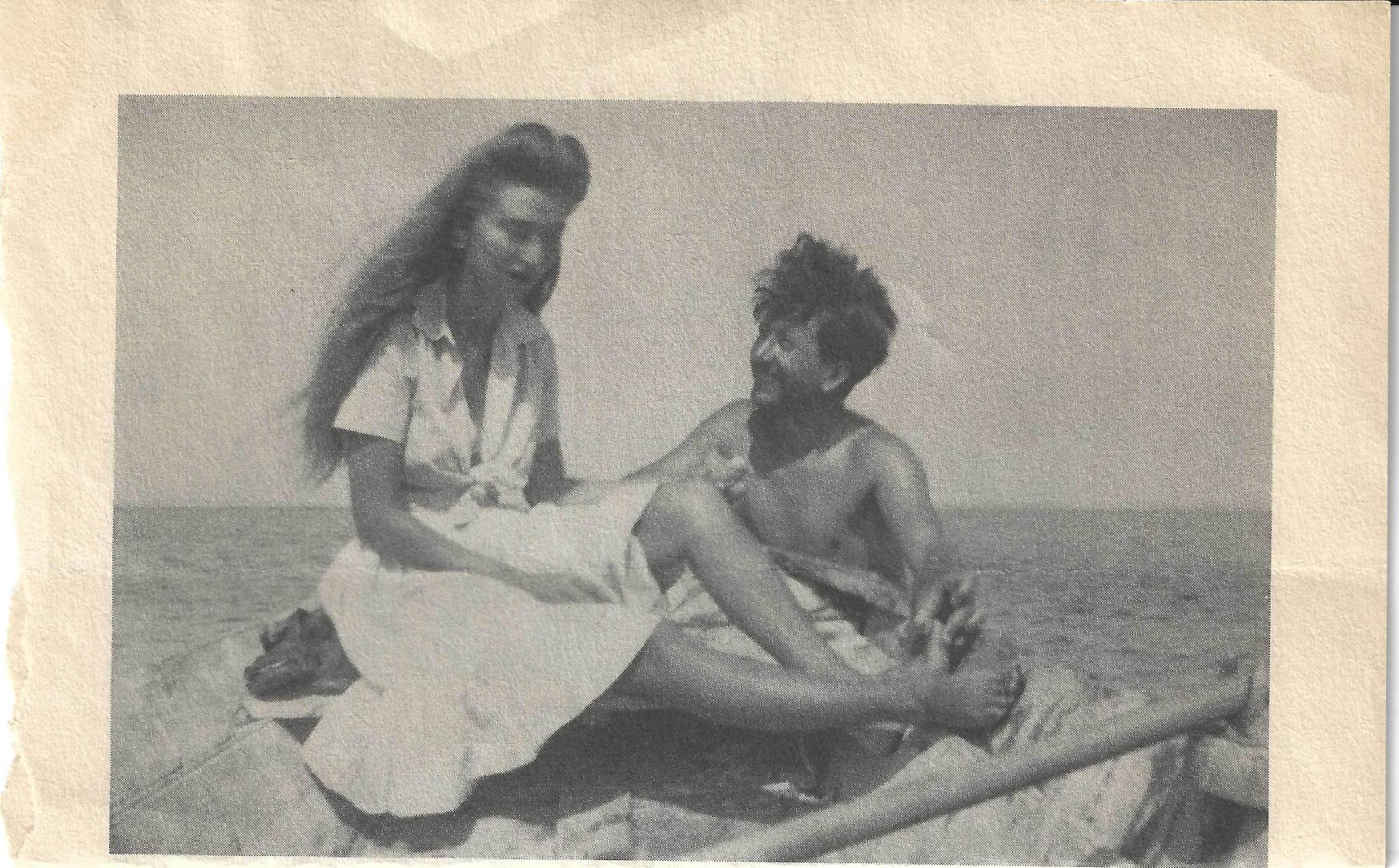 1951
Paints the six Mannequineries begun the year before. Five successive exhibitions from April to Octobe : Hannover Gallery of London (paintings from 1947 to 1951), Venice at the Sala degli Specchi, Milan at the Galleria del Milione, Rome at the Galleria San Marco and New York at the Feigl Gallery. In October-November he paints « from nature » thirty or so chrysanthemums. Such a real life approach cuts him off from the abstract art world. Failure of these exhibition.
1952
In the Avenue de l'Observatoire studio Hélion paints pumkins, breads, nudes (Tablée de pains, Dos au pain), skinned rabbits (Lapineries) as well as cityscapes (rue de Gergovie). Birth of Nicolas.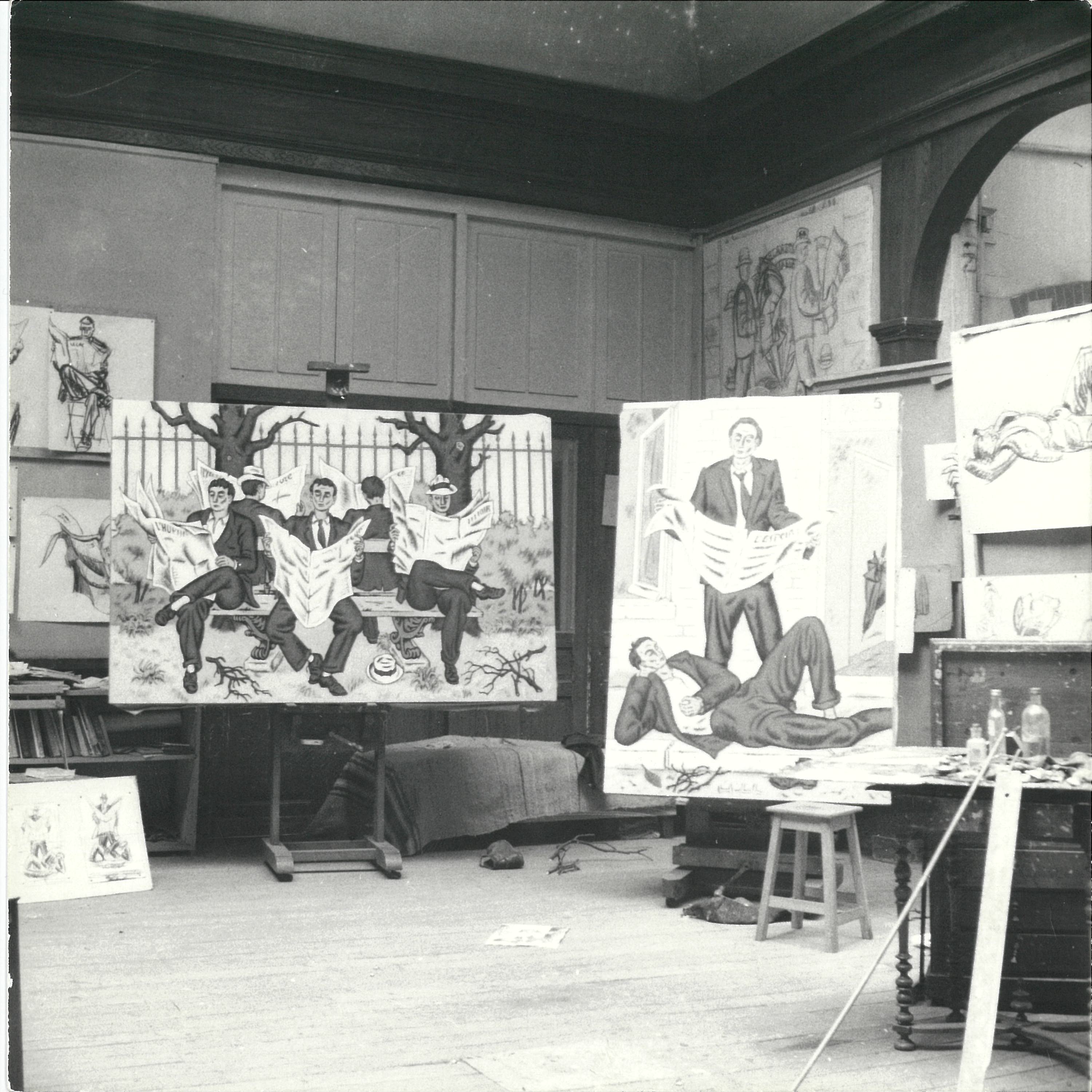 1953
Paints from nudes models: Odalisque à l'atelier. Following a suggestion by André du Bouchet he paints a view of his studio: L'Atelier. Discovers Belle-Ile. Painter Mayo invites him to show his works in his own studio.The critics speak of his almost surrealist realism or of his almost abstract trompe- l'oeil .
1954
He begins work on Le Grand Luxembourg. Many studies of trees, benches, gardeners and statues. Still lifes : Les Arums, Feuilles d'Automne, Bourgeons dans l'atelier.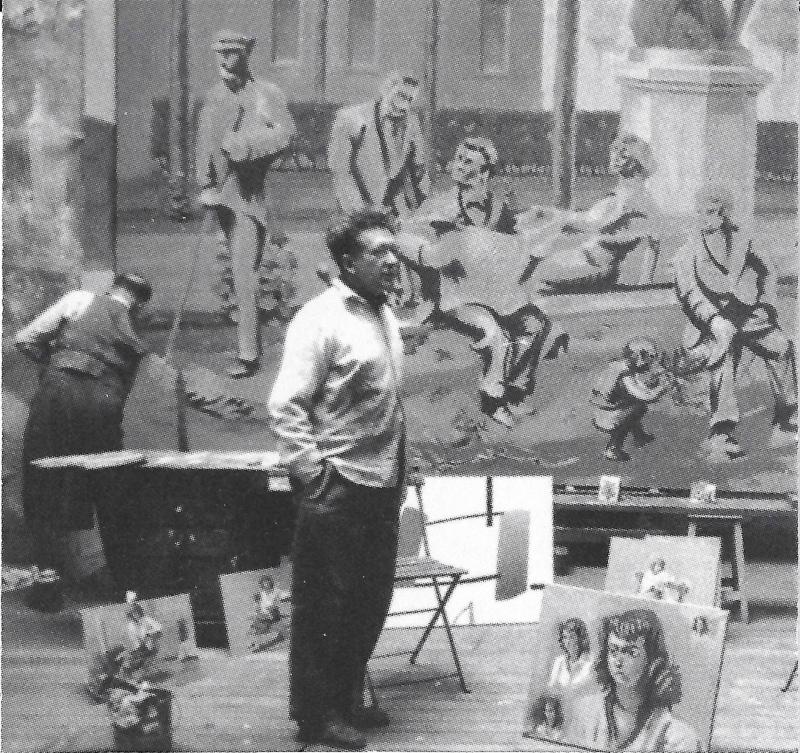 1955-57
Travels to Netherlands, to Italy; discovers Masaccio. Pegeen depressed. Many portraits of Pegeen. Takes up his Couples au parapluie,Citrouilles , Crâneries, Vanités. Exhibits at the Cahiers d'Art Gallery in June 1956. He finishes the Grand Luxembourg in1957. Hélion and Pegeen separate.
1958-59
Begins to paint portraits of his friends: Bruguière, Burgart, Bonnefoi, Bine, Lusseyran… as well self-portraits. Spends the summer paintings lanscapes of Belle-Ile (Port Andro, Ster Vrass, Ster Ouen). First of pictures of rooftops. Goes back to views of the Luxembourg garden. Paints from the nudes (Carmen), pumkins and vanités. Exhibits at the Cahiers d'Art Gallery in October 1958.des nus (Carmen), des Citrouilles et des Vanités. Exposition au Cahiers d'Art en octobre 1958.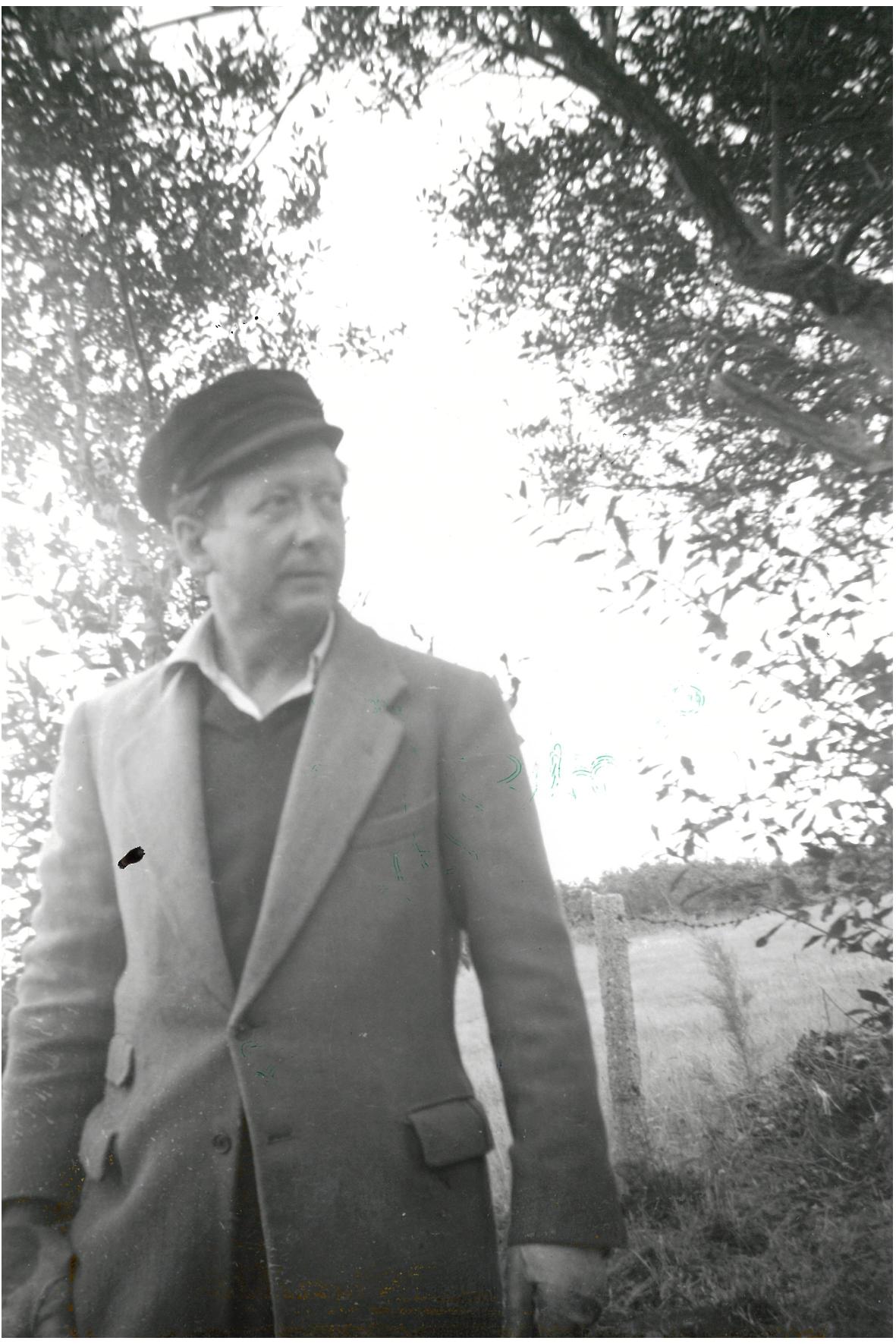 1961
Continues work on Luxembourg gardens (Joueurs de cartes au Luxembourg, L'été de la Saint-Martin) and roofs with figures and musiciens. Paints still lifes full of unexpected objects (tin soldiers, shoes, cello). Back to Belle-Ile in summer he takes up the painting of fishermen in the port of Le Palais. In June exhibits recent works at the Cahiers d'Art Gallery.
1962
The Louis Carré Gallery sets up an important exhibition of paintings from 1929 to 1939 (June-July). The show enjoyed very successful reviews. He acquires a large estate including an important studio in Bigeonnette near Chartres where he can paint large formats. In Paris he goes back to rooftops, nudes adding new figures (Cantate pour les toits, Rhapsodie pour les toits, Concerto pour les toits ). Back to Belle-Ile where he takes up his favorite themes: fishermen and the landscapes of the rocky coast (Port Coton ).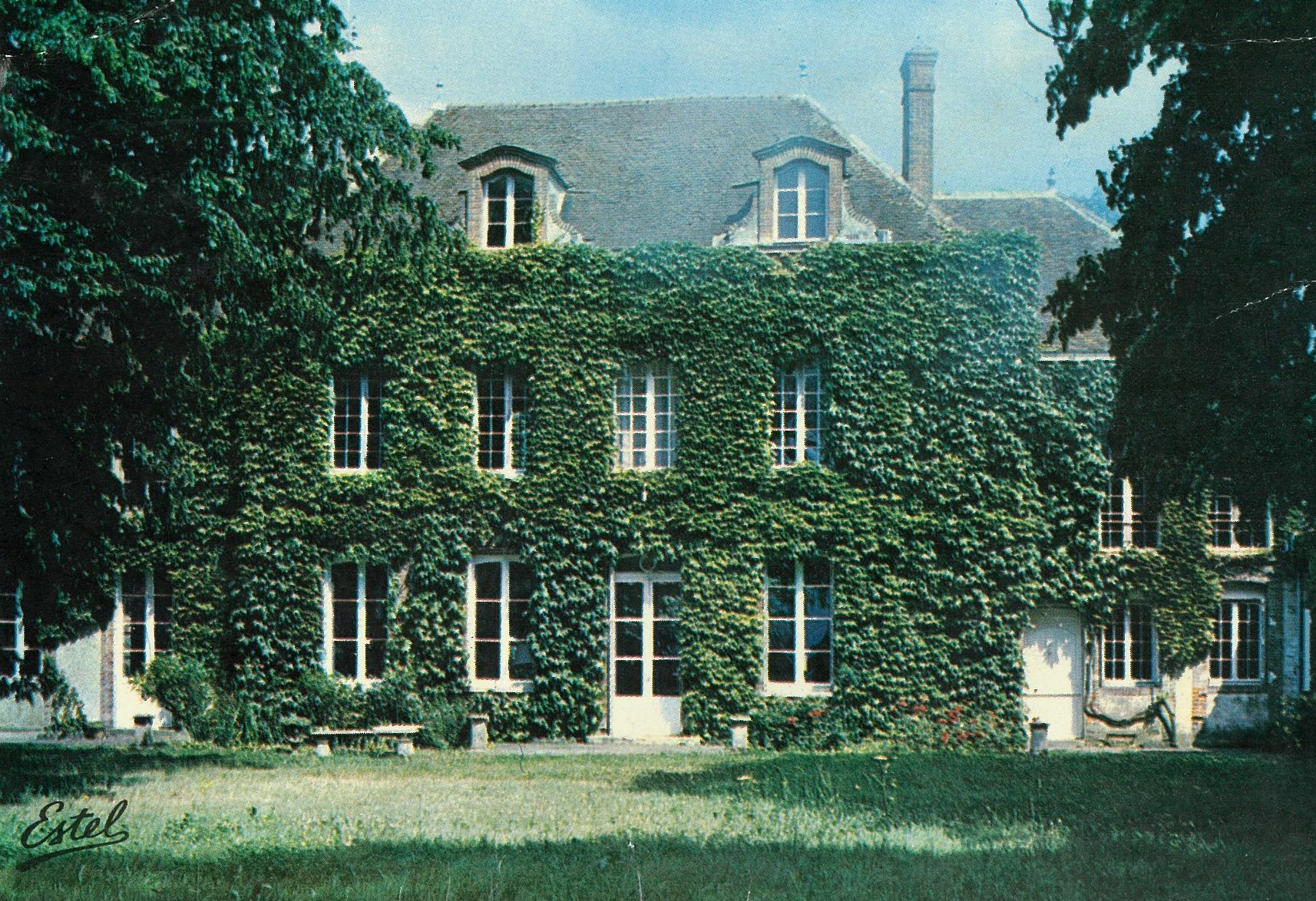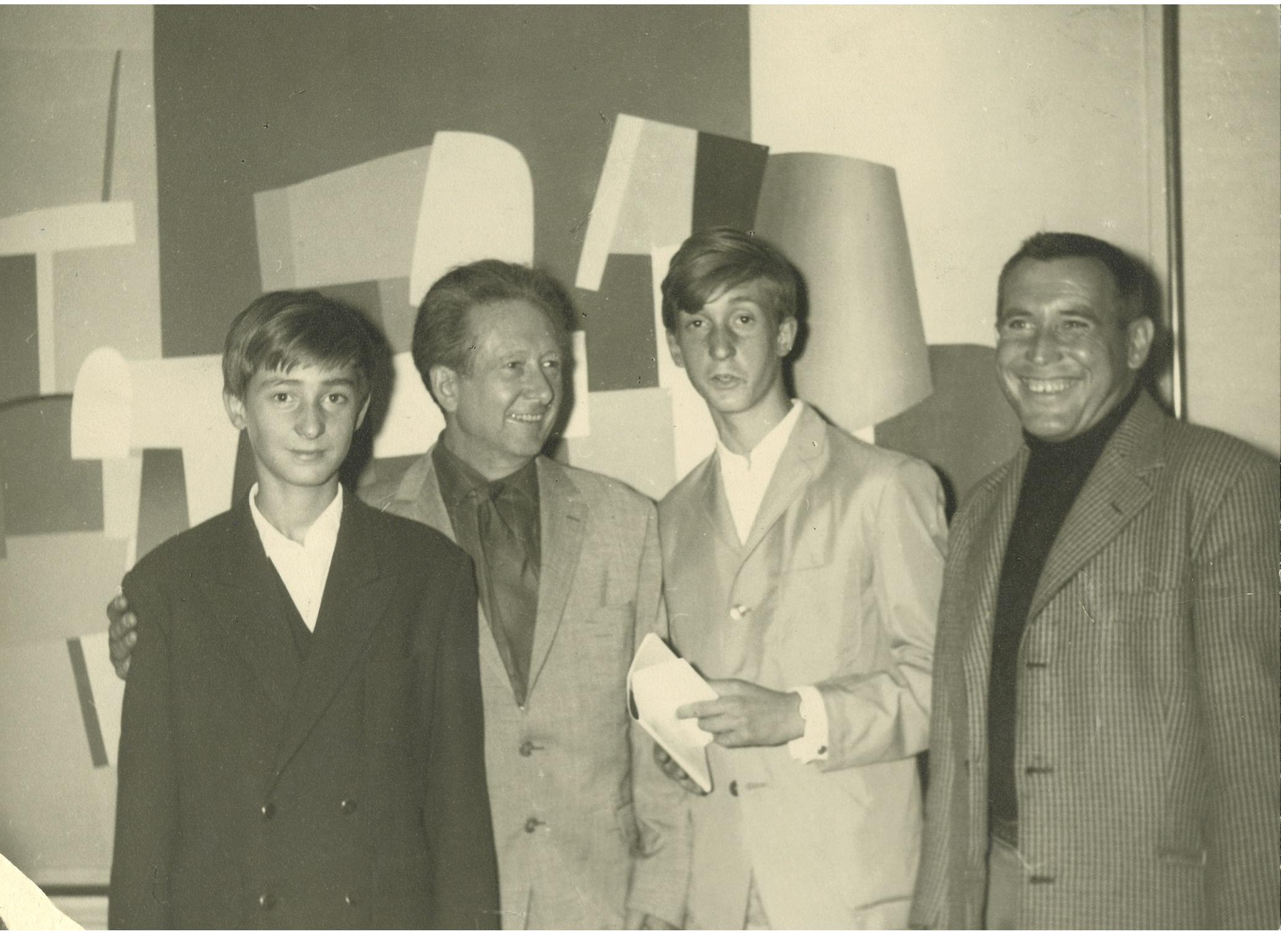 1963 –64
Marries Jacqueline Ventadour. During the summer he works on his views of the port of the Palais at Belle-Ile. In Paris goes to the wholesale market (Les Halles) where he draws after the butchers carrying carcasses (Monument pour un boucher, Cariatide) and bucher's shops (La Grande boucherie, Boucherie rouge) as well as market stalls (Voiture de fleurs et le boucher). Designs the costumes and sets for T.V production of King Lear. End of 1964 exhibits at the Gallery of Modern Art, New York: paintings from 1928 to 1964.
1965-66.
Devotes his time to street scenes, cars, passers-by, « traversants » (Le Méridien de Greenwich, Musique pour une cabassière,). Has a show at the Leicester Gallery, London (paintings from 1928 to 1965), then again at the Gallery Andrieu , Toulouse. In Belle-Ile works on the Bastille Day, in particular at night, one of his largest painting: Petite musique de nuit. In Paris he pursues his work on the street scene: La rue verte, L'attente bleue. Exhibits at the Gallerie du Dragon (paintings from 1937 to 1966).
1967
In March shows at the Willard Gallery, NY (works from 1929 to 1939). He starts what he calls « aquariums », e.i coffee shops terraces. In July begins work on « Street level », known as Le Triptyque du Dragon named after the Galerie du Dragon. Having developed on allergy to oils he adopts acrylic colours. Exhibits in Bruxelles (december 1967 to January 1968) at the Galerie Arcanes works from 1951 to 1967.
1968
He takes up his work at the Cirque d'Hiver (Circus).The students uprising attract him and produces : Théâtre en mai, Farandole de mai, Choses vues en mai. Show in Rome at the Galleria Il Fante di Spade, works from 1936 to 1967.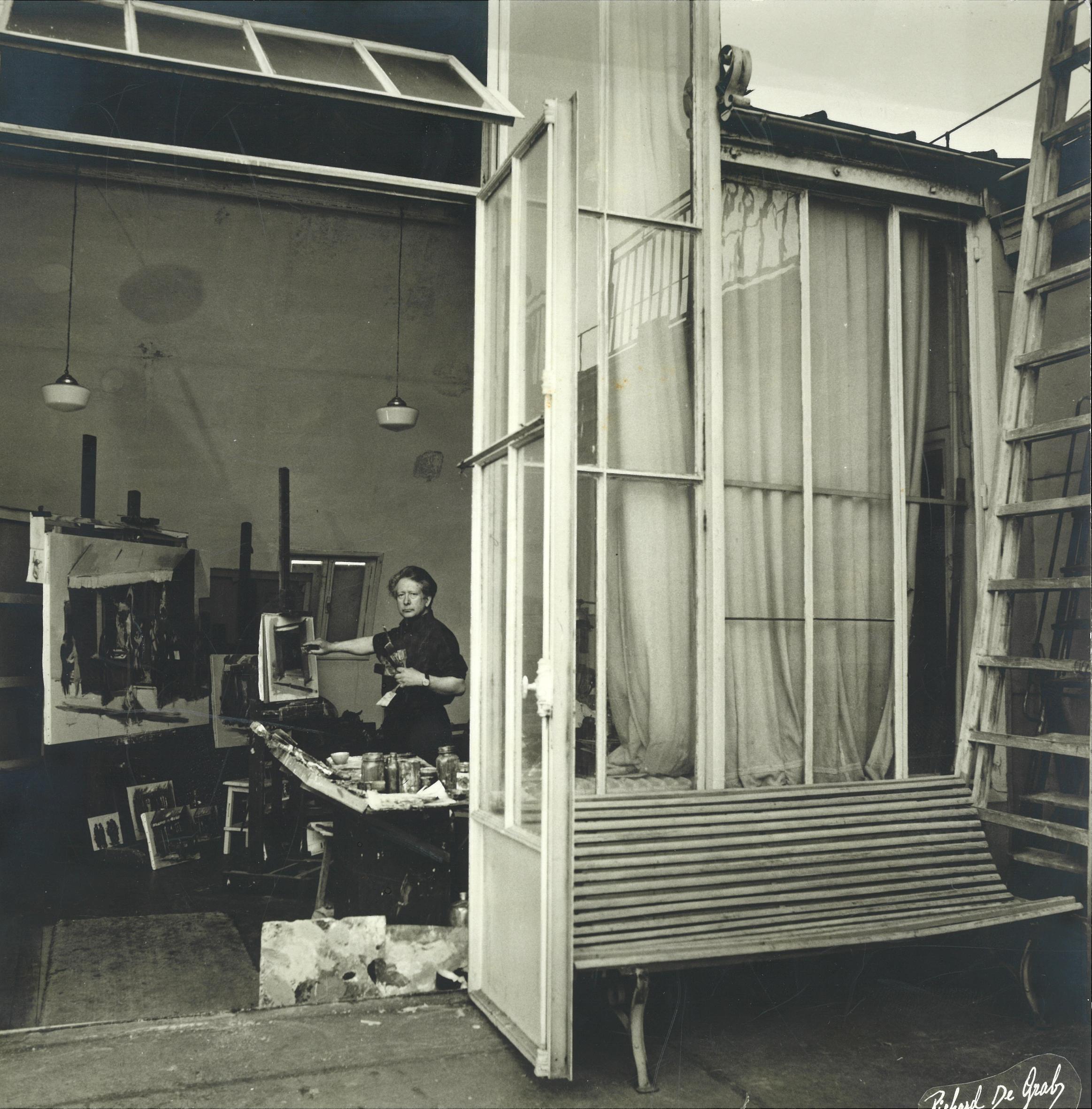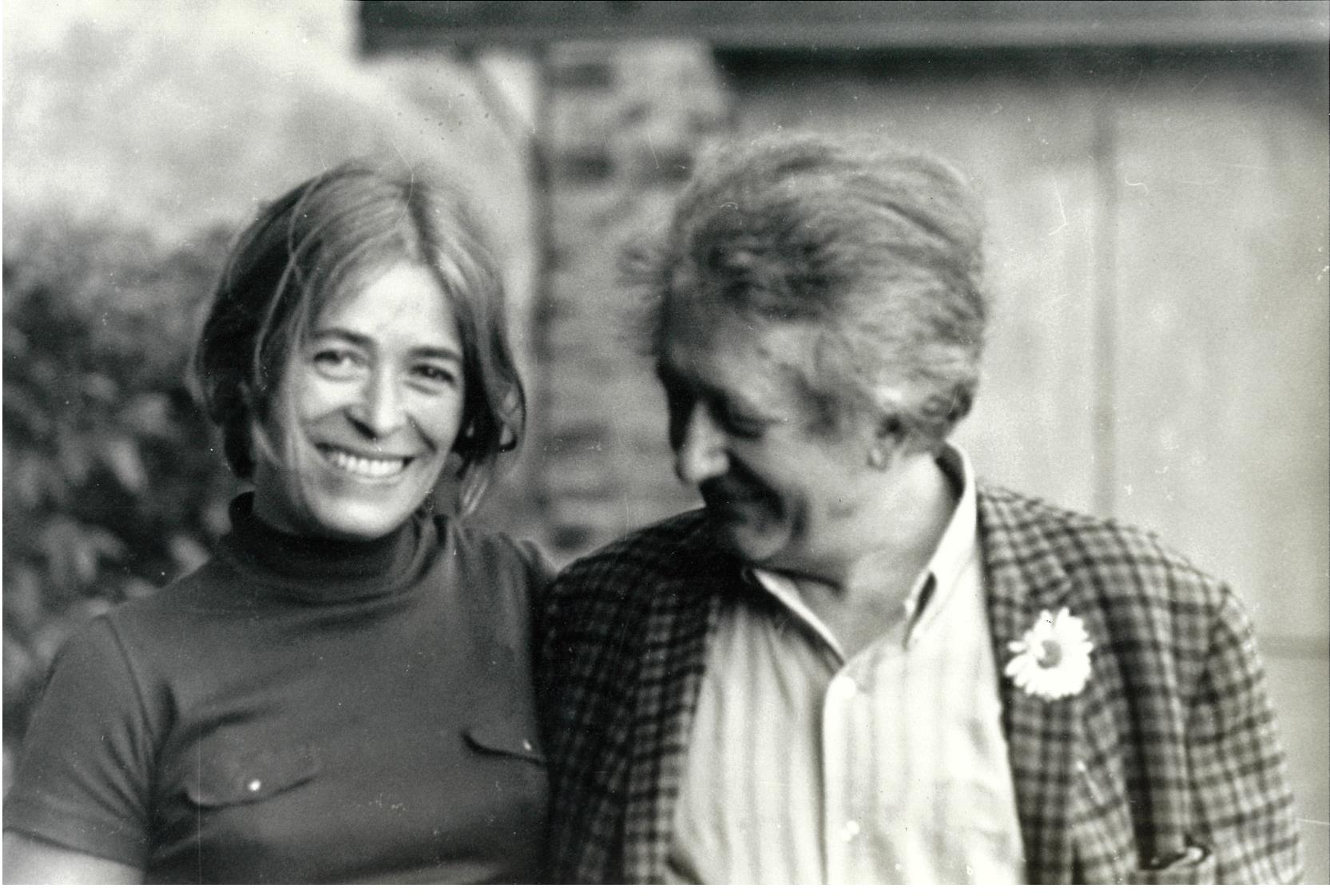 1969
Finishes Choses vues en mai. Undertakes his metro scenes (Sortie de métro, Mouton-Duvernet) while pursuing his circus scenes (Requiem pour Auguste). Show at the Galleria Eunomia, Milan, works from 1936 to 1967.
1970
Continues on his circus scenes (Supercherie jaune, Supercherie rouge). Travelling show put together by the National Center for Contemporary Art from January 1970 to July 1971 in 16 towns. A retrospective show organised by Daniel Abadie takes place in Paris at the Grand Palais: Hélion, 100 tableaux 1928-1970.In December travels to Africa.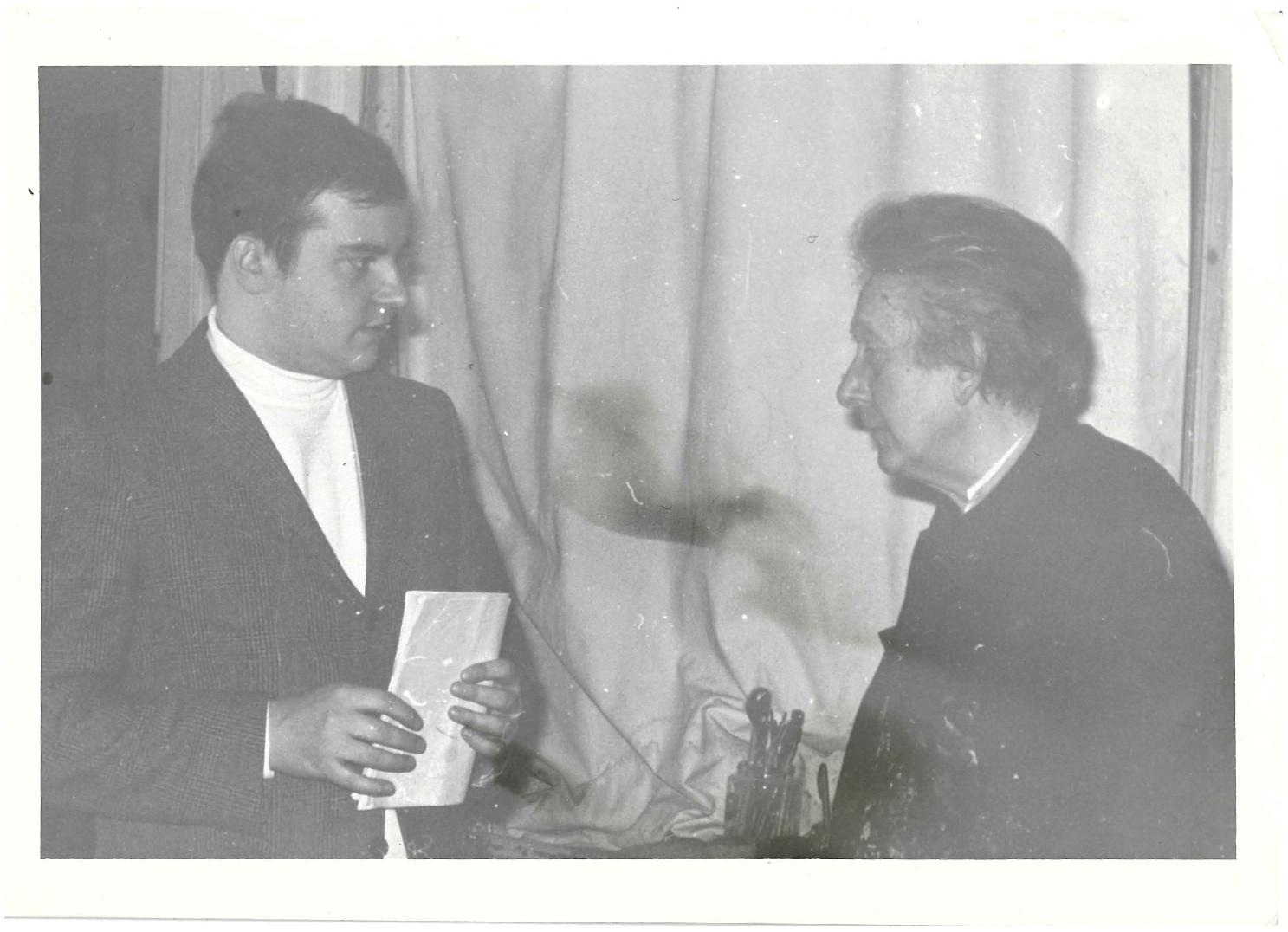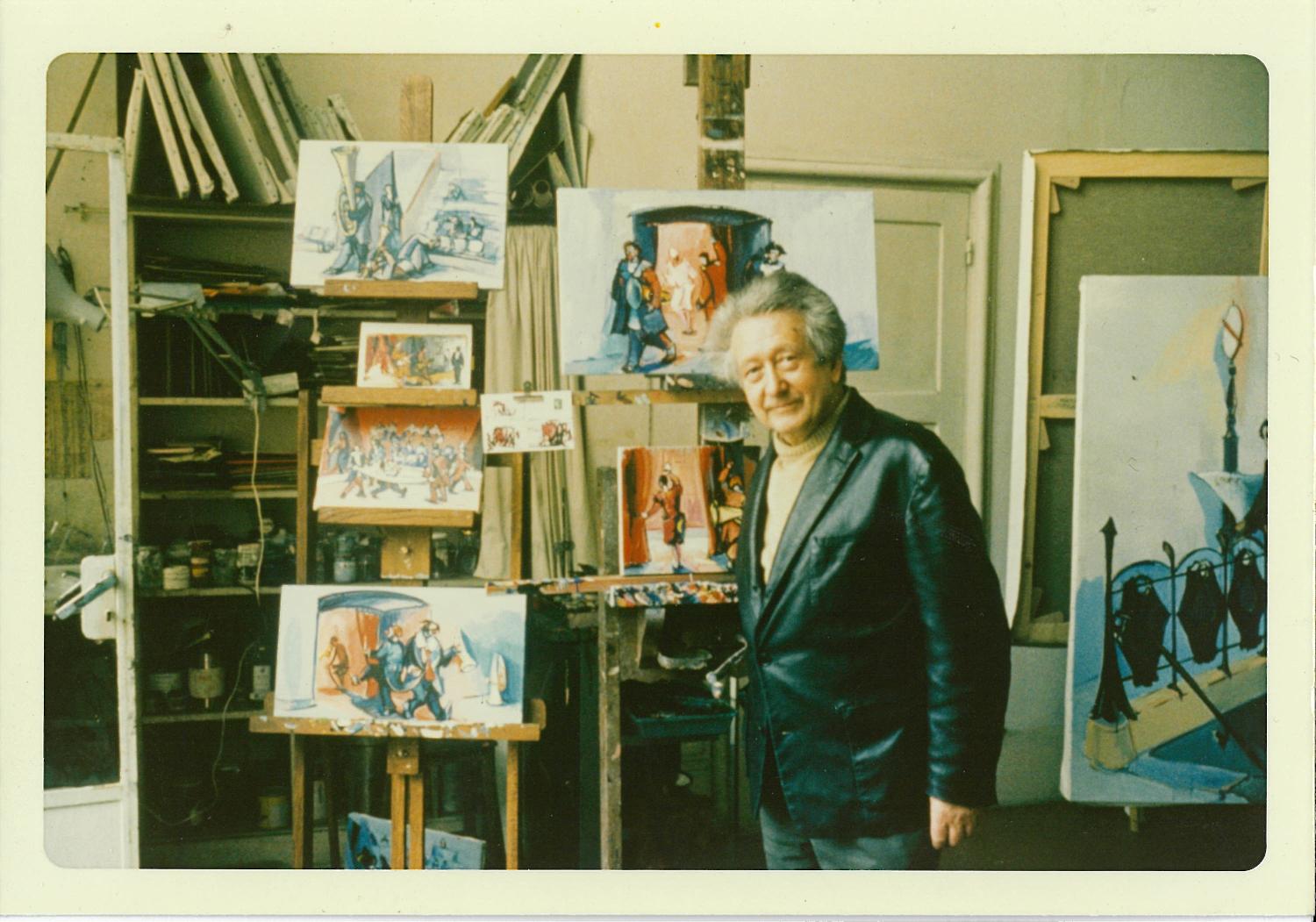 1971-72
Travels to Germany and Czechoslovakia. Has to return to Paris on emergency due to serious eye problems. Continues with his streets scenes: young people on the quays, clothes shops (Halte au pont, D'occ à la reine, Monument sur l'herbe. In Bigeonnette works on cabbages : La dame au chou, Rang de chou.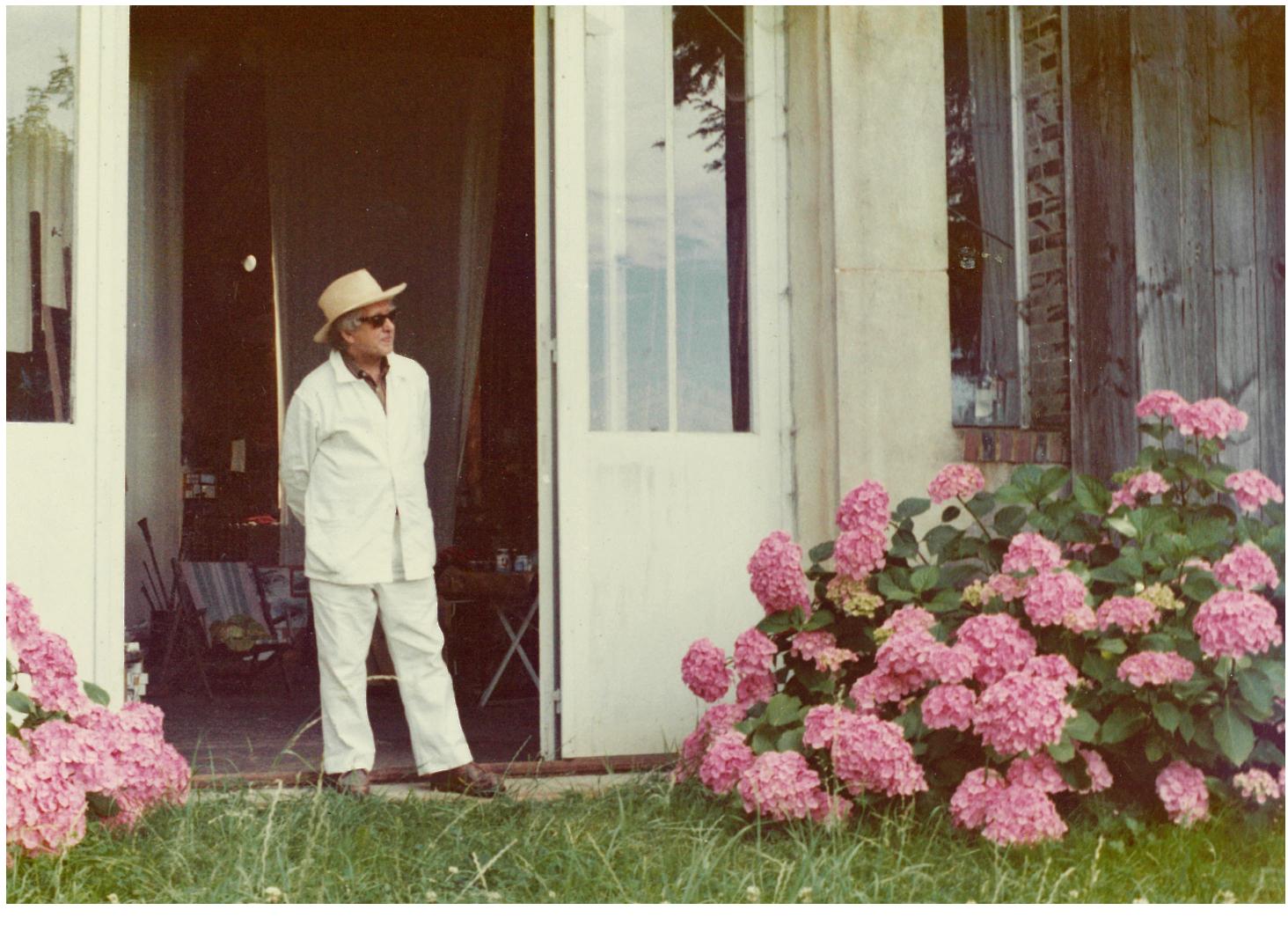 1973
Moves for good to Bigeonnette (studio). Devotes his time to the market of Châteauneuf-en-Thymerais leading to Market Triptych: Le Triptyque du Marché, Marche pour un marché, Adieu au marché. Latest works shown at Galerie Saint-Germain (March 2- June 2).
1974
From February to May finishes the Triptyque du Marché.Then series of Mathilde: Mathilde et son ombre, Mathilde etc... Travels to East Germany. Exhibition at the Musée Tavet, Pontoise. Signs up with Karl Flinker who defended Gilles Aillaud and Eduardo Arroyo.
1975
First one-man show at Karl Flinker's : Hélion 50 years of painting. Takes up street scenes again : Dévotion à la roue, Livres rares, Boîtes à livres (or Pièges). In Belle-Ile he draws from local fishermen, lobsters from which he paints : Le homard et son reflet, Boutique aux Homards, Homards aux pommes, Grand marché aux homards. Back in Bigeonnette he paints : Le perroquet et ses échos, Le perroquet bleu, Le perroquet au nu.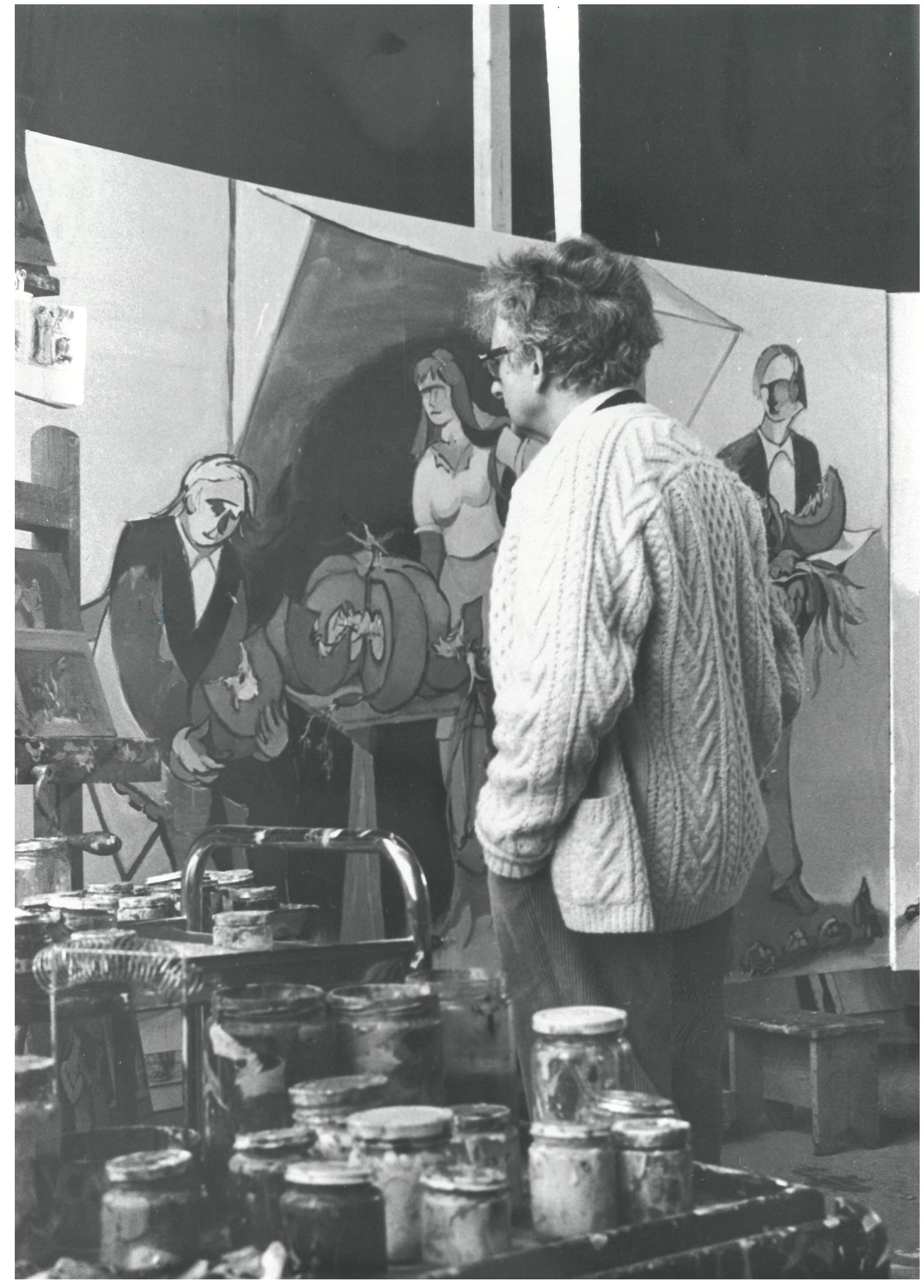 1976
November 11 (End of WW I) from which he paints the diptych: Suite pour le 11 novembre. Goes to New York for the opening of his show at Spencer Samuels Gallery. Returns to Paris with drawings that will develop into: New York scene, Clochards dans la ville.
1977
In Paris he is inspired by people walking, public toilets facilities; all of which become: La ville est un songe. Followed by half-nudes: Pantalonnade, Jambage, La méprise. Recent drawings show at L'abbaye Sante-Croix, Les Sables d'Olonne ; Then the Museum of Modern Art of Paris exhibits his markets scenes : Les marchés. Travels to Spain, visits the Prado.
1978-80
Back to the Flee Market where he finds his favorite objects and composes a large triptych known: Le jugement dernier des choses, as well as in Les suites pucières . Travels to Beijing for the inauguration of his retrospective travelling exhibition (Beijing, Shanghai, Nanshang ) organised by the Museum of Modern Art (Centre Georges Pompidou) and l'Action française d'Action Artistique.
1981-83
His vision is gradually impaired. Hélion devotes his time to going over his favorite motives : Un Borsalino pour Emile, Le réel et le songe, La Ville. In early october 1983, almost blind, he stops painting. He comments his unfinished or failed paintings in Remembrance of the yellow room, followed by three notebooks describing his childhood and the important connexions he made.
1984-85
Exhibition at Städische Galerie im Lenbachhaus of Munich: Abstraction anddaily mythology, paintings,drawings and gouaches 1925-1983, then at the Musée d'Art Moderne de la Ville de Paris
1986
Show at the Peggy Guggenheim Foundation, Venice, paintings and pastels.
1987
During his lifetime, the latest shows were :
Paris, Galerie Louis Carré & Cie paintings (May 21- July 25).
Aarhus, Danmark, Kunstmuseum, retrospective of paintings and drawings 1929-1983(September 5- October 25).
London, Albermale Gallery, Hélion,paintings since 1960, works on paper since 1930 (September 10- October 8).
Jean Hélion dies in Paris on October 27.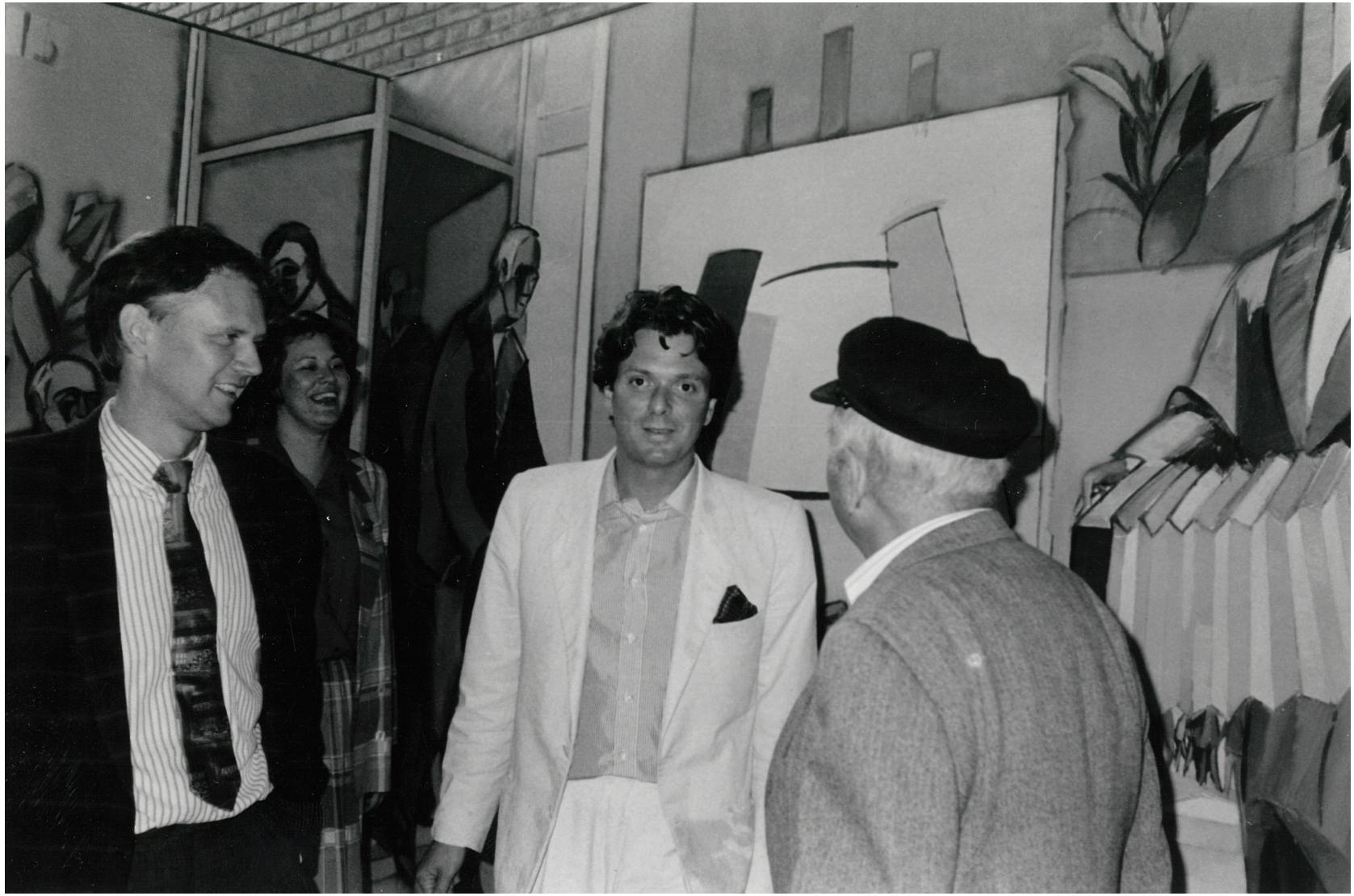 –